Eskbank House has just been announced as the state winner of the Cultural Heritage Section of the Blue Star Sustainability Cultural Heritage Awards for fostering community cultural heritage in the Lithgow area.
Eskbank House was nominated by Lithgow Tidy Towns for the Award with the announcement made at Gloucester on Saturday 7 November 2015.
"Congratulations to the team at Eskbank House on this award," said Lithgow City Council Mayor Maree Statham. "Council staff and volunteers have put in so much work to provide the community with unique and interesting events so it is marvellous to see this acknowledged by Keep New South Wales Beautiful – the sponsors of the award. We all look forward to the new events and exhibitions Eskbank House has planned for next year."
During 2014/15 Eskbank House conducted a coordinated and multidisciplinary program of cultural public events for the community. The program was developed to make the most of the historic Eskbank House and its beautiful grounds and aimed to attract a wide range of people to the museum. The program included art exhibitions, workshops, performances and themed events. Stand out events for the year included The Zombie Fashion Parade, Roaring 20s Garden Party and Eskbank Steampunk.
Special thanks is due to the Eskbank House team of staff and volunteers, Council's outdoor garden staff who keep the Eskbank House grounds looking so beautiful and the community for the support they give to Eskbank House.
Providing a range of programs celebrating the cultural diversity and rich heritage of our local government area is part of Council's Caring for our Community strategies in the Community Strategic Plan 2026.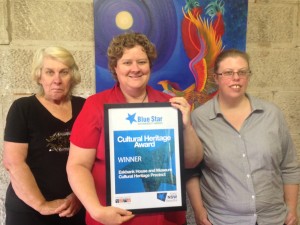 Contact:
Mayor Maree Statham
Tel: 02 6354 9999
Fax: 02 6351 4259
Wendy Hawkes
Cultural Development Officer
Tel: 02 6354 9999