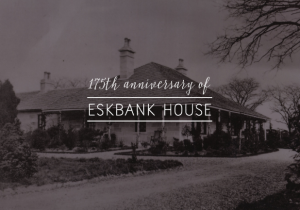 You're invited to an open day at Eskbank House
Saturday, 25th November 2017
 To mark the 175th Anniversary of when Eskbank House was built, we are launching Eskbank Voices, a new publication and exhibition. Join us for music by Mitchell Conservatorium, a series of talks, cakes, and coffee and lunch available from Mint Brew.
11.30am               Welcome and Music by Mitchell Conservatorium: The Woodrow Trio
12 noon                Binning & Brown: The Architecture of Eskbank House
Speaker:              Dr. Ian Jack, Senior Fellow and Archivist, St. Andrew's College, University of Sydney
Educated in Scotland, Ian Jack taught at the University of Sydney, where he served as Dean of the Faculty of Arts and Head of the Department of History.  A co-founder of Historical Archaeology at the University in 1974, he became deeply involved in heritage matters. He was appointed a member of the Heritage Council of New South Wales and chaired its State Heritage Register Committee.  He was also President of the Royal Australian Historical Society from 2004 until 2012.  Among his numerous consultancies was the Heritage Study of Greater Lithgow (1996-2000) and he has published on Andrew Brown of Cooerwull and on the iron industry.
1.00pm                 Recreating Historical Gardens
Facilitator:           Richard Aitken, former editor of Australian Garden History
Speakers:            Steven Halliday, Horticulturist Sydney Living Museum
                            Sandra Pullman, Gardens Coordinator La Trobe Cottage
Richard Aitken is recognised nationally and internationally for his expertise in the field of garden history. He was previously the editor of Australian Garden History, and his books include The Oxford Companion to Australian Gardens (2002), Gardenesque (2004), Botanical Riches (2006), Seeds of Change (2006), The Garden of Ideas (2010), Cultivating Modernism (2013) and Planting Dreams (2016). Richard has undertaken numerous conservation plans for significant historic gardens throughout Australia. He has curated several major exhibitions for Australia's leading collecting institutions.
Steven Halliday has been part of the Gardens Team at Sydney Living Museums (SLM) for the past 8 years. In 2016 he was awarded the inaugural Ruth Pope scholarship, allowing him to travel to the United States of America to visit historic gardens projects. This trip sparked a desire to improve the SLM gardens online presence, and then on to launching the 'Plant Your History' garden blog.  Steve contributes to the blog sharing his knowledge and his experiences working on the SLM garden portfolios.
Sandra Pullman, as a member of the Friends of La Trobe's Cottage, was instrumental in recreating Charles La Trobe's colonial garden at the La Trobe Cottage in Melbourne. The garden received an award in 2014 for the historically sensitive restoration. Sandra graduated with a B.A.Sc. Hort Hons, from The University of Melbourne, and is currently completing a Master of Architecture Research thesis at Deakin University on Ina Higgins, who lobbied the Principal of the Burnley School of Horticulture in 1899 to allow women students.
2.30pm                 ReCollecting: Oral Histories and new technology
Speaker:              Lucy Bracey, associate historian with Way Back When.
Way Back When specialises in the creation of digital history projects, digital story-telling and oral history as well other more traditional ways of communicating the past. Lucy has produced a number of different audio documentaries and digital history projects for the Victorian AIDS Council, Monash University, the Sephardi Association of Victoria as well as several radio features for ABC Radio National.
From 3.15pm     Music by Mitchell Conservatorium
Innocent Bystanders: 11 piece Motown themed band
RSVP to summar.hipworth@lithgow.nsw.gov.au