The children's play, Hansel and Gretel, performed in the grounds of Eskbank House over the January holidays, has been a hailed a success by all who attended.
"Hansel and Gretel was so full of laughter and excitement. The children and parents were engaged the whole time," said Lithgow City Council Mayor Maree Statham. "It is marvelous to have Blast Furnace Theatre bringing us these plays and I am looking forward to next summer's season already."
The children's picnic theatre production Hansel and Gretel was brought to Eskbank House by Blast Furnace Theatre, a local group established in 2015. With an enthusiastic cast of four- Brett Jeffers, Rich Evans, Roz Hicks and Jayson Wilkinson, the play was written and directed by Catherine Lockley. More of an adventure than a play, the audience is included in the action and travel all over the grounds of Eskbank House with Hansel and Gretel as they lead their parents a merry chase around the woods. This year's audience was so thrilled with the production that many returned to watch it more than once.
"Eskbank House is the perfect venue for our children's plays as the grounds provide an interactive space for both characters and audience. The children are not separated from the story by normal theatre conventions but are an integral part of how the tale unfolds," said Catherine Lockley.
Blast Furnace Theatre already has a strong connection to Eskbank House. Last year Catherine Lockley ran acting classes there and created and directed the Vampire Masquerade Fashion Show as part of the Halloween 2016 festivities. She is currently working on another project for Halloween 2017. The group are also planning productions on other sites around Lithgow.
Providing a range of programs celebrating the cultural diversity and rich heritage of our local government area through the delivery of a diverse range of quality festivals and events is part of Council's strategy to Caring for our Community in the Community Strategic Plan 2026.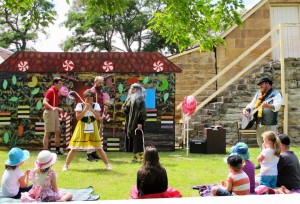 Contact:
Mayor Maree Statham
Tel: 02 6354 9999
Fax: 02 6351 4259
Wendy Hawkes
Cultural Development Officer
Tel: 02 6354 9999