Local and Regional winning art works from the Netwaste Waste to Art 2016 Competition are on display in Lithgow Library until 30 September 2016.
Every year Lithgow residents join others across the region to compete in the Netwaste Waste to Art exhibition. This is a community art exhibition and competition which aims to challenge peoples' perceptions about 'rubbish' and to celebrate the reuse and recycling of waste through arts and crafts.
Lithgow City Council hosted a local competition at Eskbank House and Museum during May 2016 with the winning artworks then progressing to the Regional Exhibition in the Lachlan Shire.
The winners for the Lithgow area were:
• Primary 2D – Dia MacNamara – Giraffe
• Primary 3D – Delaney – Reinhardt-Brown – Gordon the Gourd Bird
• Open 2D – Gordon McCloud – Ground Zero X
• Open 3D – Michael Green – Tyre Baby
• Community 3D – Karen and Barb Reinhardt – Insy Winsy Spider
• Open Functional – Lyle Fullerton – The Quangle Wangle Tree
• Community 2D – Clare McAdam – (Re)cycled Beauty
• Community Functional – Celia Ravesi – "Koogle" Knowledge on Wheels
• Tyre Theme – Michael Green – Tyre Baby
Two of the Lithgow entries won their category at the Regional Competition:
Karen and Barb Reinhardt won the Community 3D section with their adorable Insy Winsy Spider. Karen explains, "I saw the inspiration for Insy on pintrest while admiring the talent and skills of fellow recyclers and Barb provided the tip finds to enable the construction of our spider. We enjoy creating together and the things we make last for years out in the garden unlike cheap imports that tend to fall apart after 2 or so years."
Clare McAdam won the Community 2D Section with her spectacular (Re)cycled Beauty. Clare explains, "On a trip to the USA I visited many "thrift stores" where I found old Barbie dolls at a dime a dozen. Naturally, I thought "I could do something with those" and returned with my suitcase stuffed with Barbies from five decades. I am not making a political or social comment. I enjoy colour, patterns and humour. Matching the keys spelling "Plastic" and "Beauty" and the array of Barbie heads aims to be decorative and fun, not macabre."
The Lithgow and Regional Winners will be on display in the Lithgow Library until Friday 30 September 2016. Drop in and have a look and start thinking about what art work you will create for Waste to Art 2017.
Providing a range of programs celebrating the cultural diversity and rich heritage of our local government area is part of Council's Caring for our Community strategies in the Community Strategic Plan 2026.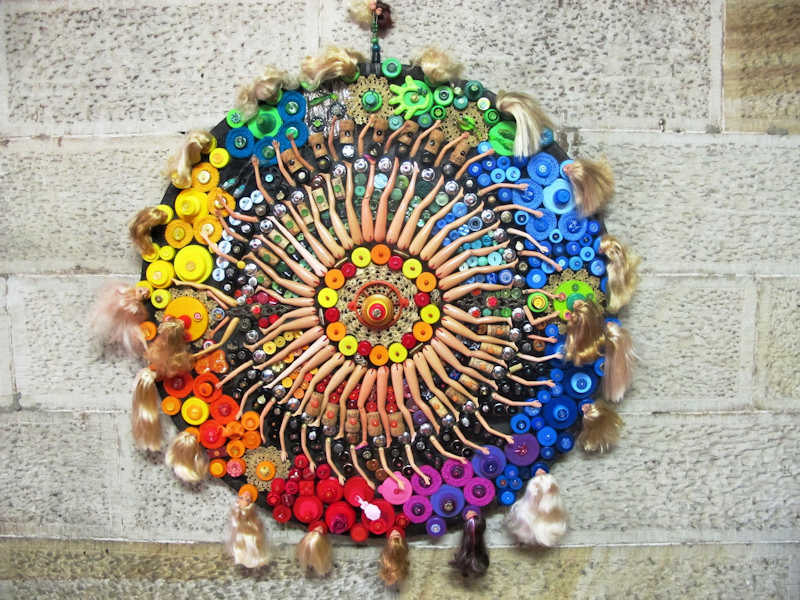 Contact:
Wendy Hawkes
Cultural Development Officer
Tel: 02 6354 9999
Fax: 02 6351 4259