The land of the Wiradjuri and Gundungurra
Eskbank Estate, and the City of Lithgow, stands on the shared country of the Wiradjuri and the Gundungurra, Wywandy and Therabulat.
Because Thomas Brown left no personal papers we cannot tell what he thought of Aboriginal people, and no mention of the people who lived on Eskbank Estate before colonisation has yet been found.
Brown certainly knew Aboriginal people. Aboriginal people lived on the property of his friend Andrew Brown at Cooerwull. Another friend, James Walker, had giant pastoral runs at Wallerowang, Lue, Wolgan, Capertee and Castlereagh and maintained good relations with the people whose country he squatted on. Brown was Commissioner of Crown Lands and Bench and Police Magistrate at Hartley, so was involved in land sales and dispensed local justice, as well as the issue of government blankets and rations to Aboriginal people.
At the time of Brown's arrival the Lithgow Valley and the land around Farmer's Creek was soft country, good for hunting and fishing. As the land was taken up for farming and industry, traditional life became impossible, but Aboriginal people did not leave. In 1880 James Silcock, master potter at the Lithgow Valley Colliery (Lithgow Pottery), visited an Aboriginal camp and 'had a long chat with them, as they can speak English tolerably well.' Aboriginal people married into the families of the migrants who came to this valley, and live here still.
The continuing attachment of the Wiradjuri and Gundungurra peoples to this country is recognised in special places in the area: Blackfellows Hand Cave near Lidsdale, Hyde Park Reserve at Hartley and the Hartley Historic Site.
A list of names collected by Mr Cullen of 'Cullenbenbong' and published in The Lithgow Mercury in 1931 records that Aboriginal people knew the Vale of Clwydd as Tuiwon; Brown's Gap was Gnallwarra, and the River Lett was Tarrapallat or Therabulat.
Thomas and Mary Brown
Eskbank House was built for Thomas Brown (1811-1881) and his wife Mary (1804-1879), Scots Presbyterians who married in Dumfries and arrived in Sydney in December 1838. They moved to Bowenfels, renting Cooerwull for two years from their countryman (but no relation) Andrew Brown.
Thomas Brown was from coal mining country and recognised Lithgow's mineral wealth. He bought 200 acres of land adjoining Cooerwull, where coal was already being used, in 1840. By 1842 he held 630 acres. However, without transport, commercial mining was impossible. Brown bided his time, living the life of a well-connected country gentleman.
Brown was made a Commissioner of Crown Lands in 1847 and two years later became a magistrate. By 1855 he was Police Magistrate at Hartley Courthouse, dispensing justice in a time of squatters, gold rushes and bushrangers. He entered the NSW Parliament as the Member for Hartley in 1872. Although dismissed for a conflict of interest in 1876, Brown built a legacy that lives on in Eskbank School (Lithgow Public School), Eskbank Station, St Mary's Presbyterian Church and Eskbank House.
Brown's greatest legacy was, however, the Eskbank Estate. Its coal fired smelters for iron, steel and copper and powered the Great Western Railway. For 90 years Eskbank supported the entrepreneurs and workers who changed Lithgow from a sylvan glade into a version of England's Black Country.
"At the bottom of a deep defile in the Hartley mountains, surrounded with "the fragments of an earlier world," Mr. Thomas Brown, the police magistrate of the district, has chosen his abode and a more romantic site than Eskbank cannot well be imagined. For many years past Mr. Brown has relieved the monotony of his magisterial duties by minutely studying the formation of the rugged and desolate scenery around him; and to one who loves such studios, a better field could not be presented than this parish, with its gold, its irons, its jewels, and its coals. "
Hamilton Henderson, 'A Police Magistrate's Museum in the Australian Bush', Empire, 16 June 1865.
Pictured below: Thomas & Mary Brown
A Police Magistrate's Museum? The Garden House
When Thomas Brown died he ordered his papers be destroyed, and created many enduring mysteries. One of them was the nature of this hexagonal pavilion, which was built in the 1870s.
The Lithgow District Historical Society believed the pavilion was Brown's natural history museum, and that he created it to honour Charles Darwin's visit to Wallerawang, although Darwin visited in 1835 and historical surveys of the site show the pavilion was built some time in the early 1870s. The daughters of Blast Furnace Manager William Mortlock, who lived at Eskbank in the 1920s, called it a folly and stored their tennis nets in it, but said it had a chemical smell, and contained some scientific equipment.
The museum explanation is plausible because Thomas Brown was a collector. In 1854 and 1862 won prizes for his mineral samples at the New South Wales Exhibition, judged by geologist Reverend WB Clarke. In 1865 Brown showed his home to a Scottish journalist.
Brown's museum held many mineral samples, auriferous quartz, silk from his own silkworms and live and dead snakes, as well as rubies, garnets, cornelian, jasper, opals, dugong teeth, South Sea Islander and Maori weapons, Aboriginal boomerangs and nulla-nullas, Roman coins and a snuff box that Brown said had belonged to Prince Charles Edward Stuart and had been given to Brown's grandfather by the Earl of Kenmuir.
It seems impossible that such a collection ever fitted entirely into the hexagonal room, but it is not too hard to imagine he stored some here, in this pretty pavilion.
Sadly, nothing is known of the fate of Brown's collection, but he would, no doubt, approve of the conversion of his home to a museum.
"Mr. Brown has formed a fine museum at Eskbank, which though chiefly supplied by the geological wealth of New South Wales, contains many other objects of interest to the learned and refined – to the botanist, the anatomist, and the antiquary …

Our attention was also directed to a massive piece of lead from Bimbenang estate, near Bathurst, the whole of that valuable property being traversed by plumbatic veins. Here is ironstone and alum, and asbestos specimens from the same neighbourhood; and salts, which we were assured by Mr. Brown rivalled those of Epsom both in quality and nauseousness, from Piper's Flat; bituminous schist from Mount York and Eskbank, slate from the Turon River, excellent limestone, and stucco that would act as lime; and granite, blue and white; all from the Hartley and Bathurst districts. "
Hamilton Henderson, 'A Police Magistrate's Museum in the Australian Bush', Empire, 16 June 1865.
Photo below:  The Garden House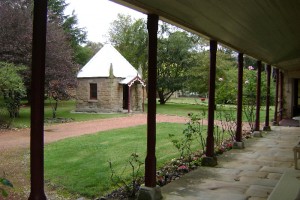 Railways and Coal
The wealthy families of Lithgow wanted the Great Western Railway to come through their properties. When it did, in 1869, Eskbank House became an island in a sea of industry.
In 1858 Government Surveyor Edwin Barton began investigating routes for the Great Western Railway. He decided to run the line over the Blue Mountains to Lithgow, using a Zig Zag. Barton's line connected the landowners of Lithgow: through Eskbank to Andrew Brown's Cooerwull (Bowenfels), ending at Walker's Wallerowang: Barton joined the families in 1865, when he married James Walker's daughter.
The railway needed coal. Hermitage Colliery opened in 1868 and Thomas Brown cut his own experimental tunnel near Farmers Creek. When the railway reached Lithgow in 1869 Brown put a private siding behind his house. He then cut a fresh coal shaft, Eskbank Colliery, on the southern side of the railway, near what is now Mort Street. For 30 years Eskbank Colliery was the most productive mine on the Western Coalfields. Brown's Siding became Eskbank Station in 1882, and was the main station for Lithgow until 1925.
Rail transport helped other industries develop. In 1874 Brown allowed the Copper Smelting Works to start on Eskbank, binding them to buy Eskbank's coal. In 1875 Eskbank Ironworks started under the same arrangement on the Farmers Creek side of the Estate. Potteries, quarries, brickworks and other collieries flourished and from 1871 to 1881 Lithgow's population grew from 100 to 2112.
By 1907 the Ironworks and Blast Furnace were connected to the main rail line by spur lines, and to each other. Sections of these lines remain on the northern side of Eskbank's gardens.
"The little train on the Blast Furnace to Steelworks track puffed by regularly outside the front paling fence. It was "a monster", the "bunyip", the "boogie" man, whatever, from which we always hid behind the trees and shrubs in delicious fear."

(Betty McKenzie (née Mortlock), as told to Lithgow District Historical Society
The railway was a source of great wealth for Thomas Brown, but that came at a cost to his reputation. In 1872, the year Brown entered the NSW Parliament as Member for Hartley, Eskbank Colliery won the contract to supply NSW Railways, at the expense of lower bidders. Brown argued his manager, William Pitt, had signed the contracts, but in 1876 the NSW Parliament Committee of Elections and Qualifications found Brown had a direct interest in the contracts, and his actions were illegal. He was obliged to resign.
Men of Iron and steel: Rutherford and Sandford
Mary Brown died in 1878 and Thomas Brown left Lithgow in 1879. He sold Eskbank Estate to James Rutherford. The house became known as The Grange, and was rented.
The Eskbank Ironworks was started in 1873 near Farmers Creek, at Thomas Brown's Old Tunnel. A consortium led by James Rutherford, the owner of Bathurst stagecoach transport company Cobb & Co, operated the Ironworks. By 1876 a small blast furnace was running at the site, although it struggled against cheap iron imports from England.
In 1881 Rutherford bought the entire Eskbank Estate, including the ironworks, the colliery and the house. He leased it to his Bristol-born ironmaster William Sandford in 1886, who bought Rutherford out in 1892.
Sandford was convinced the iron and steel industry was essential for industrial development and defence. He researched overseas technology and fought for financial support, including failed attempts to win parliamentary office. Sandford was popular in Lithgow as he looked after his workers by providing cheap land, helped them build houses to his design, and shared some of his profits.
Sandford imported two steel furnaces and set them up at the Eskbank Ironworks site. He made Australia's first steel pour in 1901 and won the contract to supply government iron and steel. In 1907, on the eastern side of the Eskbank Estate, he built Blast Furnace No. 1. However he had overreached financially and was bought out by the Hoskins Brothers.
During these years, as Eskbank blackened with industry, Rutherford and Sandford, lived on a country property, Eskroy in Marangaroo. The Grange was rented out to business people, and may have served as a girls' school.
The Blast Furnace, the Hoskins Brothers and the Mortlocks
The Blast Furnace, built by William Sandford in 1907, towered over Eskbank. Taken over by the Hoskins Brothers within a year, it was a powerful force in social, political and economic relationships in Lithgow until 1928.
When banks refused to provide more credit to William Sandford he was forced to sell it to Charles Henry and George Hoskins. This deal gave the Hoskins Brothers Eskbank House, Eskbank Ironworks, Eskbank Colliery, 400 acres of land, iron ore leases at Cadia and Carcoar, the country retreat of Eskroy and important government contracts.
The Hoskins Brothers soon identified that Lithgow was a poor site for a steelworks. Local coal was not suited to steelmaking and the town was too far from ore reserves and seaports. Their management style brought them into conflict with workers and led to dramatic strikes, including the 1911 Lithgow Riot. The demands of World War I extended the life of the works but by the early 1920s the Hoskins had decided to form Australian Iron & Steel and move to Port Kembla.
Under the Hoskins Brothers, Eskbank House, still called The Grange, was the residence for the managers of the Blast Furnace. From 1920 to 1927 the manager was a Lithgow boy, William Mortlock. His daughters Betty Mackenzie and Mavis Britten left their memories of the house and estate with the Lithgow District Historical Society: in their time it was a bustling family home, and a venue for parties, concerts and entertainments.
However, by the end of the 1920s, the Mortlocks and the Blast Furnace was gone and the Hoskins Brothers were dead. Over the next 20 years the remainder of the Eskbank Estate was subdivided and Eskbank House fell into disrepair.
"In the latter years of the twenties probably everyone with any ironworks connections left Lithgow and migrated to Port Kembla … So weeds grew across the acres of land in Lithgow which once flared with slag waste from the furnaces, where smoking chimneys poured out grit and soot over Lithgow's washing in a bad wind. Gone the cough and shrill whistle of the fat self-important little steam engines, "The Wombat" and "The Wallaby" and their pards. No more of the crescendo and the crash of the donkey engine or the mill which we were so used to we didn't hear any more. No more hiss and cloud of steam as water met hot metal and no longer the regular end of the shift hooter by which much of Lithgow's life was ordered."

(Betty McKenzie (née Mortlock), as told to Lithgow District Historical Society)
Timeline
Years
Event
1842-1881
Thomas and Mary Brown built Eskbank House and lived here with Mary's sister Wilhelmina
1881-1892
James Rutherford and the Eskbank Ironworks
Eskbank House, 'The Grange', was rented to Mrs Cabot, who ran a Girls' Finishing School; a businessman called Robert Crawford and his wife Rosina; Mr Blakemore of Great Cobar Copper; Mr Holdship of Lithgow Supply Company and Mr LB Blackwell, manager of Vale of Clwydd Colliery.
1892-1908
William Sandford and the Eskbank Blast Furnace
'The Grange' was accommodation for Eskbank Ironworks staff.
1908-1948
The Hoskins Brothers and Australian Iron and Steel
'The Grange' housed the managers of the Blast Furnace. William Henry Mortlock, born in the Vale of Clwydd and the first Australian Blast Furnace manager, moved here with his young family in 1920.
When the Blast Furnace closed in 1929 'The Grange' was divided into flats. Residents included Keith and Evonne Scarlett, Mrs Chapman and her son Billy, and many others.
1948-1966
Rescue and Restoration
Eric Bracey bought 'The Grange' from Australian Iron & Steel in 1948 for the Lithgow District Historical Society. Michael, Helen and Amelia Blagoyevich were tenants and builders.
1966-2003
Eskbank House: The Lithgow District Historical Society
Eskbank House opened on 21 November 1966. Live-in caretakers and guides were James and Doris Cantwell, Lorraine and Jim Johnstone, Anna and Les Petocz, Etta and Norm Green and Joan Taylor.
2003
Lithgow City Council has managed Eskbank House since 2003.
Lithgow Pottery Collection
The Lithgow District Historical Society built the Lithgow Pottery Pavilion in 1993. Although new, it links Eskbank Estate with James Walker's 1824 Wallerowang property.
When rail surveyor Edwin Barton married Georgina Lyon Wolgan Walker he renamed Wallerowang as Barton Park. His heirs, brother and sister James Lyon and Lue Loveday Walker Barton, were murdered in there 1948. The estate was sold and in the 1980s was flooded to power the Wallerawang Power Station but the Lithgow District Historic Society retrieved stone from the Barton Park barn for the pavilion.
Eskbank House
Alexander Binning, a Scottish stone carver, built Eskbank House from sandstone he quarried at Bowenfels and Farmers' Creek.
Alexander Binning (1801-1863) came to Sydney as a free emigrant on the Stirling Castle in 1831. A stone carver, he came as one of 140 'mechanics' (skilled tradesmen) recruited by the firebrand Scots Presbyterian Minister Reverend John Dunmore Lang to build Australian College. Like Thomas Brown, he was from Inverness.
Sydney was both good and bad for Binning. He carved memorials for Scots Church that The Sydney Morning Herald said were 'at once classical and chaste in design and execution'. In 1833 he married Christiana Ross in the same church, beginning a union that produced 12 children. By 1835 Binning was working for the Road Department as Inspector of Bridges at Bathurst. But in that same year he was harassed in Hyde Park by police constables, who objected to him being an emigrant who had come with 'the b____y Scotch parson'.
Binning found a warmer welcome in Lithgow, where Scots of his faith were prospering. He received a land grant at Bowen's Hollow (Bowenfels). The hotel he established, once called The Royal and now called The Glasgow Arms or the Donnybrook, stands today, and he designed and built houses for fellow Presbyterians, Andrew Brown and Thomas Brown. Although the Browns were teetotallers Binning was close to them. He ran his cattle on their land and, with Reverend Colin Stewart, joined them in buying the land for South Bowenfels Presbyterian Church.
Binning's buildings are substantial and elegant, but not ostentatious. Eskbank displays many of his signature elements: ashlar sandstone blocks, a hipped roof, symmetrical internal structure, wrap-around verandah, bay windows and elegant chimneys.
This restrained style reflects the values of Binning's countrymen: dour and Presbyterian, dignified and enduring.
The stables and workman's cottage were built in the period 1842-1866 and are in original condition – a direct link to the early days of the property. The stable attic served as accommodation for domestic servants, and for workers during times of housing shortage.
Why is the property called Eskbank?
It is often assumed Eskbank was named after Thomas Brown's birthplace, but Brown was born in Craighead, near Inverness, in Northern Scotland. Eskbank was not Mary's birthplace either: she came from the coal-mining area of Dumfries, near the English border. Perhaps the name expresses Brown's ambition, as the first Eskbank is a well-heeled part of Dalkeith, in Edinburgh.
When James Rutherford bought Eskbank in 1881 he built himself a grander house at Marangaroo, topping Brown by calling his house 'Eskroy': 'roy', used this way, means 'king.' William Sandford and Charles Hoskins also preferred to live at Eskroy, a much more ostentatious building, which became the Lithgow Golf Club in 1928. From 1881 until 1966, Eskbank House was known as 'The Grange'
Photo Below: Eskbank House from Eskbank Station, circa 1880 from the Lithgow District Historical Society Collection.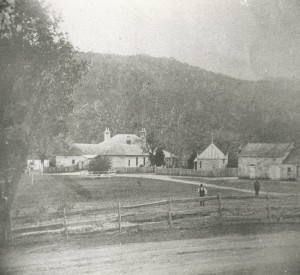 Eskbank's Gardens
Eskbank House once enjoyed views of the entire Eskbank Estate and the surrounding ridges. The gardens were set out for pleasure, but by the 1870s collieries and smelters surrounded them.
Eskbank House sits on a knoll facing north, and once had a large yard to the front, with a circular driveway. In the 1870s a second driveway was added from the western side at Bells Road (Inch Street), to the front of the house. Early photographs show the verandahs covered with roses and formal gardens.
Mavis Britten and Betty Mackenzie spent part of their childhoods in The Grange, as their father William Mortlock was the Blast Furnace Manager. They remembered many of the elegant features of the original garden. The House was accessed through stone gates on Inch Street. The driveway ran along the eastern side of Eskbank, through an avenue of pines and came around to a tennis court, near the hexagon pavilion, and a great pin oak tree. It was also a working garden, with a vegetable patch, orchard and livestock.
"Further on was the remains of an old orchard. Very sour little green apples grew on trees there. My father fenced off this area from the gateway for Bunty, the Jersey cow. Where the greyhounds now run was then an open field and the circus used it whenever it came to Lithgow. We could climb the fence and watch elephants being washed etc. Once, tethered to our fence, the elephants pulled down part of it. We got free tickets from that, very satisfactory! "

(Betty McKenzie (née Mortlock), as told to Lithgow District Historical Society)
When the Lithgow District Historical Society acquired Eskbank House in 1948 it was run down and the gardens were covered in ash and cinders. However, large Robinias (Black Locust Trees) and conifers survived, forming a frame for a new garden.
After Eskbank House opened as a house museum in 1966 the gardens were reshaped and the entrance drive was moved to Bennett Street. In 1967 the Lithgow District Historical Society asked community members to donate trees and shrubs. In the 1990s Council began managing the garden, restoring it to something like its original form.
Eskbank House and Museum
In 1944 a group of Lithgow citizens resolved to rescue Eskbank House, still known as The Grange, from its derelict state and restore the house as a museum.
After the Blast Furnace closed down in 1928, the remains of the Eskbank Estate and The Grange were left behind. The house was rented out. During World War II it was divided into flats to meet the housing needs of a town that was bursting at the seams with the war effort.
The Lithgow Historical Committee formed after the war. In 1944 they asked Australian Iron & Steel to donate the house to the community. The offer was refused but in 1948 Eric Bracey, of Lithgow's Bracey's Department Store, gave funds to buy The Grange. The house was deeded to Lithgow Council, in trust.
"No doubt you are aware that the building known as 'The Grange' was one of the first buildings erected in Lithgow, and also that its erection by Thomas Brown, the original owner of 'Eskbank Estate', gives it an historical value which we believe warrants its preservation. It is remarkable how little the original architecture has been altered and to-day in its excellent state of preservation it affords an opportunity to preserve for all time this building which represents so much in the history of Lithgow.
My Committee feel that 'The Grange' would be an ideal location for a museum of historical record being in itself probably the most important of all relics which may be housed therein."
(Lithgow Historical Committee to Australian Iron & Steel, 28 September 1944.)
From 1948 until 1966 Eric Bracey and the Lithgow District Historical Society pared the house back to something like its original configuration, and furnished it with a collection acquired from the Lithgow area, and further afield: items that tell a story of Lithgow, but few which can be associated directly with Thomas and Mary Brown, or later owners of the site.
Eskbank House opened to the public 21 November 1966, with the dedication:
Esk Bank House
Opened by
Mr Eric Bracey
Who played a major part in its purchase, restoration and furnishing
21 November 1966
In 2003 Lithgow District Historical Society handed control of the site to Lithgow Council. Since 2005 Lithgow Council has operated the site as Eskbank House and Museum.
Possum and the Engines
The steam engine, Possum, is a four-coupled saddle tank locomotive. Built in Leeds by Manning Wardle & Co in 1912, it arrived in Lithgow in 1919 to work the line between the steelworks and the Blast Furnace. In 1928 Possum was taken to Australian Iron & Steel Port Kembla (later BHP) but in 1967 was retired. It was given to Lithgow District Historical Society and installed here in 1969.
"There was a train line from the Blast Furnace to the steelworks which ran right past the front of the house pushing or pulling ladles of hot iron, slag or some other ironworks commodity. The tough little engines had names; Kangaroo, Wallaby, Wombat, Possum, Bunyip. Going to the works – as it was always called – on a Sunday, would sometimes mean we would get a short ride on one of these."

(Betty McKenzie (née Mortlock), as told to Lithgow District Historical Society)
The steam tractor engines behind the pavilion are from a farm at Lidsdale and were installed in 1970.
Photo below:  Possum