Lithgow's Futuristic Victorian event, Eskbank Steampunk, returns to Eskbank House and Museum on Saturday 30 July 2016 with amusements, delicious victuals and merriment for all.
"Eskbank Steampunk is such a wonderful experience," said Lithgow City Council Mayor Maree Statham. "The activities, displays, markets and high tea are all first class, but it is the visitors in costume that really win the day."
The most important element of the event will be the splendiferous attire of guests which will turn Eskbank House into a true Victorian Village of the future. There will be a range of prizes for costume and accessories culminating with the crowning of the King and Queen of Eskbank.
For all of those who attend, costumed or not, the day will provide a range of experiences to participate in. Sporting activities will include croquet with the Lithgow Croquet Club, tea and parasol duelling, hoop rolling, badminton and quoits. There will be a penny farthing display with John Kitchen and the Eskbank House collection of blacksmith tools, saddlery and gadgets will be available to carefully handle. Visitors will be invited to add their Steampunked guns to the Lithgow Living History Firearms display, dating back to 1720.
Photography is always an important feature of the day and visitors will be encouraged to pose with Possum the Locomotive, the Pioneer Roller and the Buffalo Pitts Steam Engine.  Professional photographer, Kate Gluskie, will be available for photo shoots in the Victorian Antique Furniture Exhibit.
The Ladies of the Vale will once again be providing a magnificent High Tea.  Visitors can sit and enjoy their delicious cakes, scones and savouries while the Wandering Minstrels entertain them.
Pyrographer, Raine Doyle, will be burning calligraphy onto wood for those who bring their own wooden item or she will have decorated wood available for purchase. Specialty Steampunk Markets will be in the Courtyard for visitors to purchase a memento of their day
The finale of the day will be the inaugural Great Eskbank Tea Pot Race. Professional and amateur teapot drivers are invited to display their racers and compete in the race. Meanwhile bystanders will cheer for their favourite beautified vehicles as they negotiate the obstacle course and drag race each other to be the Eskbank Tea Pot Champion for 2016.
Eskbank Steampunk runs from 1-5pm on Saturday 30 July 2016 at Eskbank House and Museum, Bennett St Lithgow. Tickets cost: Adults $40, Children 5-12 $20 and Children under 5 free. All activities and high tea are included in the price. Extra money will only be needed for the purchases at the markets and pyrography.
Providing a range of programs celebrating the cultural diversity and rich heritage of our local government area is part of Council's Caring for our Community strategies in the Community Strategic Plan 2026.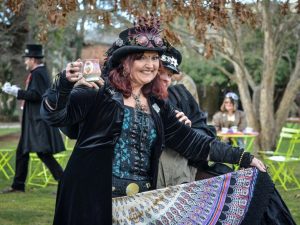 Contact:
Wendy Hawkes
Cultural Development Officer
Tel: 02 6354 9999
Fax: 02 6351 4259