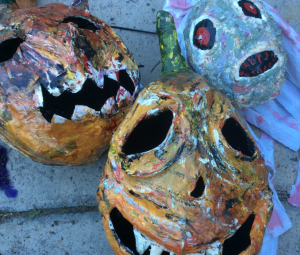 Jack-O'-Lanterns Workshop with Ludwina Roebuck
Friday 29th September, 11am – 1pm
For all ages
Bookings are essential. Workshop and afternoon tea free, museum entry fee applies
To book phone 6354 9999
Get crafty and create a spooktacular installation of nightmarish Jack-O'-Lanterns that will glow wildly in Main Street during Lithgow Halloween. Explore your dark imaginings to dream up ghoulish faces and devilish creatures that will scare your friends and family!
Don't miss out on this opportunity to work with a talented local artist to create a unique installation to haunt Lithgow's streets for Halloween 2017.
 To see some of Ludwina Roebuck's wonderfully quirky creations, you will find her installation shining over Pioneer Park in Main Street, produced as part of Tidy Town's Laneways Project.